Sue H. Pacifica, CA: Beautiful job by EarthTones! Chris is easy to work with, bids competitvely and does an amazing job. He has a great eye for landscape design and is very knoweledgeable about plants and all of the details of putting together a complete high end landscape. Chris was reliable throughout the project and attentive to what we wanted. There was nothing bad in our experience working with him and I highly recommend EarthTones to anyone looking for unique, custom landscaping.
EARTHTONES Owner & landscape designer Chris Pappada
Darren O. Pacifica, CA: EarthTones did an amazing job on our front yard! After 15 years of struggling to get it right on my own I finally gave in and called a professional. After seeing his work and reviews I called Chris at EarthTones, he was quick to follow up for a consultation to discuss the scope and budget of the project. He had lots of suggestions and ideas, gave us some options and was very flexible with any design changes that came up. Overall he developed the theme we had always wanted for our yard into something awesome! Our new landscaping is both beautiful and practical ( drought tolerant, low maintenance). Chris was extremely professional and great to work with throughout the entire design and installation process and his attention to details and use of high quality plants and hardscape materials really makes our landscaping stand out. Chris finished the project within the budget and timeline we agreed on and has followed up with us after the installation to check on the plants and make sure that everything is going okay with our new landscape.
Marylin A. Pacifica, CA: Chris really knows what he is doing. He is very creative. He helped me let go of the impossible ideas I had about my landscaping and created something even better than I ever imagined.
Rebecca M. Moss Beach, CA: Chris Really listens carefully to what the client wants and then adds his personal artistic touch. He came up with a beautiful landscape design for our front yard that we absolutely love and continue to be complimented on by neighbors and strangers, we have even had people stop to photograph it! He stayed within our budget and communicated with us frequently so we always knew what was going on with the project. Chris is easy-going, creative, artistic, dependable and great to work with. We highly recommend EarthTones!
Jetta V. Montara, CA: EarthTones did a fantastic job re-landscaping my front and back yards! The yard was neglected for years, full of weeds and nothing would grow. Chris installed all new drought tolerant plantings and many different types of palm trees, boulders, granite pathways and flagstone patios and a fully automated drip irrigation system. Our yard now feels like a resort and we love all of the new landscaping and watching everything grow.
Jeanette B. Montara,CA: We just had our property re-landscaped by EarthTones landscaping. I highly recommend Chris, he was a pleasure to be around, knows his stuff and is creative and artistic!
Kim S. Moss Beach, CA: EarthTones Landscaping came highly recommended by several locals on Nextdoor Neighbor. He focuses on low water plants that thrive in our coastal climate. Chris is very professional and I was very impressed by his knowledge of plants and the fact that he worked with me to get the final design as close to what I asked for as possible while adding his own creative touch. Chris spent time with me presenting different options of hardscape materials such as flagstone, gravels, fire pits and water features letting me decide which I liked the best and then incorporating those elements into a cohesive design. Chris takes great pride in his work and continues to stop by and check on all of the plants and irrigation system to make sure everything is thriving. My neighbors have all commented on my new landscaping and it really stands out in the neighborhood. All in all, I was incredibly impressed with the final outcome of my front and back yard landscaping and the pricing was reasonable for the quality. I give EarthTones the highest of recommendations to anyone seeking to have a landscaping project done in the Pacifica to Half Moon Bay area.
Aimee N. Pacifica, CA: After a local recommendation, we contacted EarthTones to replace our tired, gopher infested front lawn with a modern, drought tolerant landscape. I am terribly picky but Chris nailed exactly what I was looking for within a reasonable price. We have people frequently pull over and take pictures of our new landscaping and we enjoy the gorgeous design and our new decomposed granite patio and fire pit. We have also used Chris to maintain the landscape on occasion and appreciate his knowledge and use of organic methods around our kids and dog. Highly recommend EarthTones.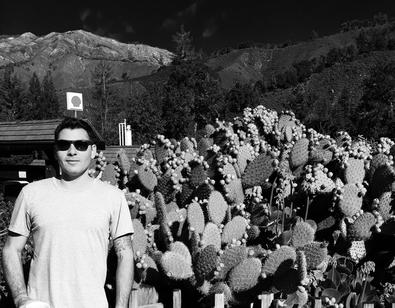 Chelsea H. Montara, CA: I hired Chris based on the beautiful landscaping he had done on a neighbor's house. I had no idea what I wanted except that I wanted it to be drought tolerant and low maintenance. He used beautiful plants that thrive on the coast and created a beautiful design concept for my front and back yards using gravel, wood chips, boulders, ledgestone, flagstone, flowering plants, succulents and palms. He has a modern design sense and will tell you honestly what will and won't work for the conditions of your property. He dealt with and worked around drainage issues, gophers, crab grass, old tree roots and re-created the space it into a beautiful new front and back yard that I love! Very happy with his work and I highly recommend EarthTones if you are looking for something that is artisan, different, modern and drought tolerant.